The Chichibu Yomatsuri Festival is a dazzling celebration held at night from Dec. 2 to Dec. 3. With a 2000 year history, it's considered one of Japan's top three festival floats – the other two being Kyoto's Gion Matsuri and the Takayama Matsuri.
Fantastic Floats
The Chichibu Night Festival rings in the month of December with six floats unique to certain neighbourhoods within the city. These elegantly decorated floats meander through Chichibu with a flurry of noise and activity followed by music from drums and flutes. Each float weighs more than 10 tonnes and is adorned with glowing lanterns, tapestries and intricate wood carvings, creating a beautiful display to entertain and impress spectators.
Main Event Buzz
The festival's main attraction takes place on December 3 in central Chichibu. From the afternoon to the evening, the six floats are set on display around their respective neighbourhoods and are then noisily pulled to Chichibu Shrine.
Massive crowds gather along the parade route, so it's a good idea to get to a good viewing spot early or reserve some seats in advance. If you happen to miss out on a good viewing spot, the festival floats are tracked and played out on a jumbo screen in the front of Seibu Chichibu Station.
At 7:00pm, the floats are pulled through the streets and towards city hall. When the floats pile around city hall, fireworks burn up the sky in a blazing display, from 7:30pm until 10:00pm.
Spectacular Hanabi (fireworks) Display
Lasting nearly 2 and a half hours, this special winter fireworks display wows the crowds of Chichibu. The streets along the float area buzz with activity as food stalls sizzle and sell amazake (sweet rice wine) to keep the bundled crowd toasty and happy.
Travel & Accommodation
Since Chichibu has limited accommodations, the festival's early end (10:00 pm on Dec. 3) gives viewers a chance to travel back to Tokyo via Seibu Chichibu Station as well as Chichibu Station.
Both of these railways run additional trains on December 3 to accommodate the extra travellers. Chichibu Shrine is located very close  to Chichibu Station and is only a 10 minute walk from Seibu Chichibu Station.
Getting to Chichibu From Tokyo
The city of Chichibu is about 90 minutes away from central Tokyo, and is easily accessible by train.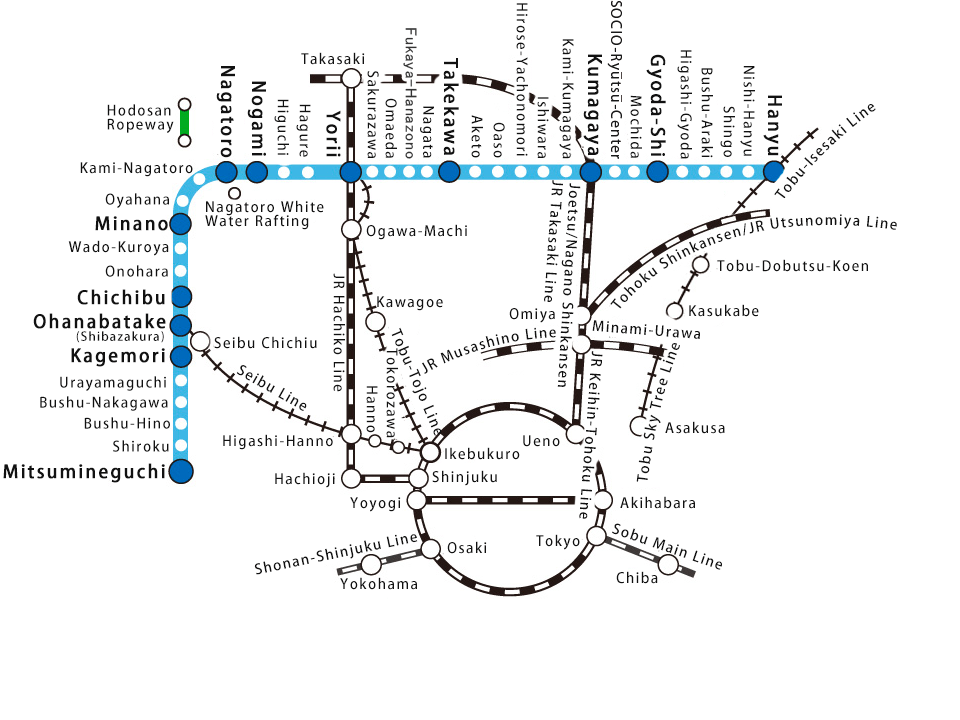 Via Seibu Rail
Express Train: You can take the express train to Chichibu from Tokyo Station with a transfer at Hanno Station for ¥780. The whole trip will take just under 2 hours.
Limited Train: The Red Arrow Limited take you from Ikebukuro Station to Chichibu Station in around 80 minutes for ¥1480 one way. Seat reservations are mandatory.
Via JR & Chichibu Rail
Take either JR or Shinkansen to Kumagaya (35 minutes, ¥3500 for Shinkansen, and just over an hour at a cost of ¥1140 for Japan Rail). Once here, transfer to Chichibu Rail for a 70 minute ride at cost of ¥860. Keep in mind the JR portion is covered by the Japan Rail Pass but the Chichibu portion is not.
You Might Like These As Well