The word "relaxing" is almost synonymous with "nature". You can't plant an entire garden and see it bloom all at the same day, though. The solution? The Mukojima-Hyakkaen Gardens. It's the best destination for nature lovers and stressed out peeps of the world.
What's So Special About This Garden?
The Mukojima-Hyakkaen Gardens has got a lot of history embedded beneath its soils. It's more than a century old and is the only surviving garden from the Edo period. A beautiful relic of the olden days where Japanese landscaping was at its peak. It's a living art piece that remains pure to this day.
The half-acre garden continues to attract thousands of visitors each year who seek to either rekindle their relationship with nature or just intrigued with the colorful spread of different flora species.
History
The Mukojima-Hyakkaen Gardens was created by Sahara Kikuu, an antique dealer passionate about all things related to art & nature. He started with 360 plums originally wanting to realize his dream of owning an orchard. As years flew by, they planted hundreds of flowers; hence, the word "hyakkaen" (one hundred flowers).
By the 20th century, the orchard was donated to Tokyo's government and by 1979, it was declared a place of historical value.
More About The Lavish Garden
The entrance gives off that Edo period vibe that takes you back to the place Japan once was.
Remember the plum trees?
They stand tall up to this day along with 230 species of plant. Yes, 230. That includes these cute morning glories.
And these, too. Beautiful, aren't they?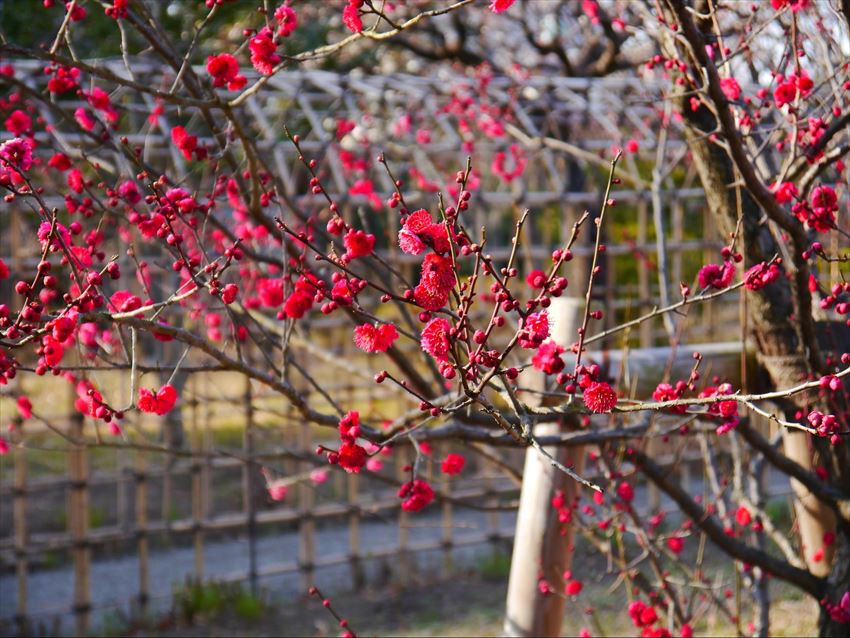 Aside from a long list of flora species, the majestic garden has a long pond that stretches from the eastern part.
One of the gardens' main attraction is the Hagi Tunnel. It's a 30-meter man-made tunnel where bush clovers cover the trellis and lead to the southern end of the garden. Quick tip: September is the best time to visit as that's when the bush clovers bloom.
For the Paleophiles out there, the 29 stone monuments should pique your interest. These are stones where the inscriptions of the garden founders are inscribed.
Fees
The entrance is free for infants and children below 5 years old. It will cost 150 yen for teens and adults and 70 yen for seniors. If you're from Tokyo, it's free for infants up to middle-school aged kids.
How To Get There
The Garden is pretty accessible since a lot of train station surround the area.
The shortest walk would have to from the Hyakkaen-mae bus stop on the Toei Bus Kameido-Nippori route 22.
If you're getting off at the Higashi-Mukojima Station on the Tobu Skytree Line, it'll take you 8 minutes to arrive at the Mukojima-Hyakkaen Gardens.
From the Keisei-Hikifune Station on the Keisei Oshiage Line, it'll take you 13 minutes on foot.
Location Details
Name
Mukojima-Hyakkaen Gardens
Address
3-18-3 Higashi-Mukojima, Sumida City, Tokyo, 131-0032, Japan
Hours & Fees
Open from 9 AM to 5 PM DAILY (CLOSED DURING NEW YEAR HOLIDAYS)
You Might Like These As Well